These functional fitness exercises make me feel like a kid on a jungle gym

Zach Simonson-Bond Chief Mate, Schooner Adventuress, Intermediate Blast Member

"Learning and practicing Adam's style of "functional strength body mechanics" has been invaluable. I will definitely move with more strength, flexibility, safety, and confidence in my work on the ship as a result of this training. "

My back pain went away after One Private Session!

Sara Giswold, Private Training and Intermediate Blast Member

Adam taught me how to correctly do three basic core exercises, and a back pain that had stymied me and other health practitioners for weeks just went away.

I don't have life-limiting back pain anymore!

John McConnel, Private Training and Foundations Blast Member, 6 months

After training with Adam and practicing his functional fitness principles for about five months now, I am moving with more strength, resilience and efficiency than I can remember.

"…my straighter posture and stronger core improve my sense of confidence"

Laurel Vogel, Intermediate Blast, Natural Movement Training

after working with Adam for about 9 weeks, I began to regain my strength and vitality in ways I didn't realize were still possible to me.

"I wouldn't train nearly this effectively on my own"

Sherryl Christie, Intermediate Blaster

But to train this consistently and effectively takes a love for it that I don't quite have.... Adam does. And he shares it with us.
Small Group Fitness Training
Small Group Training with Vibrant Fitness is the best training value anywhere. You get a great training experience that delivers real and personalized results. At a fraction of the cost of private training.
Fitness Specialities
Adam offers a wide range of functional fitness solutions for all ages and body types. Available remotely and in-person
Everything that we train is Functional Fitness.  All of the training we offer is aimed at making you...

Remote solutions include full classes over Zoom in addition to in-person options.

How would you like to be strong, fit and active at 77? You can be, if you begin to take functional fitness...

Did you know that one OSHA reportable back injury could cost your company $40,000 to $80,000, or that...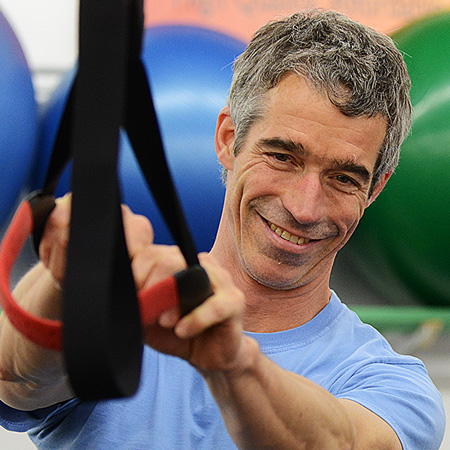 Adam is founder of Vibrant Fitness, a functional fitness training company based in Langley, WA. His excitement and love for good form and effective exercise are contagious and he is known for his enthusiasm, intensity, and humor.
His unique style of functional fitness training, draws on decades of practice in Tai Chi, Chi-Gong, and yoga.
His earlier schooling and career experience has been in Mechanical Engineering and Waldorf Education, both of which also inform his Functional Strength and Movement training work.
Adam is a CPT-NASM- certified personal trainer, National Association of Sports Medicine.
Adam has been helping people improve their lives through fitness training and group exercise for over twenty years now.
Vibrant Fitness Blog
Unique and practical insights from Adam Fawcett, the founder of Vibrant Fitness. Deepen your understanding of What functional fitness and strength training is, Why you need it, and How to perform some basic basic elements of it.
"If you're over 50 and you want six pack abs… You probably need a different fitness goal."    -Adam Fawcett ...